How one bank embraced technology to better meet customers' evolving needs
Once tasked with the nuts and bolts of automating analog processes, digital innovation officers are evolving with the banking industry. Standing up digital offerings, supporting emerging technologies and finding new value in products, processes and services are now top priorities.
Nancy Dixon has a similar story to tell. She began her career with First Federal Lakewood focused on implementation and consumer adoption of customer-facing digital solutions. Now, as digital innovations officer for the Ohio bank's holding company, First Mutual Holding Co., her role is more strategic. She studies customer preferences, geography and other demographics to establish strategies for how digital products and services are introduced at the organization's affiliate banks. Those strategies also apply to digitizing back-office processes.
The role of digital innovations officer is a newer one for many financial institutions, including those that blend IT and marketing into the position. Dixon calls it a "bank-to-bank decision" how the role is best serves an organization.
We talked to Dixon about creating a culture of digital innovation at First Mutual Holding Co. and its affiliates to enhance experiences, add value and create new opportunities.
How do you and your organization view and define digital innovation?
We see digital not as a set of products and solutions, but as a culture and a mindset. How are our customers experiencing our organization? What self-service capabilities would enhance that experience? Then we go a step further to look at back-office products and processes that support customer-facing digital platforms, ensuring those are automated.
Implementing a culture of digital innovation is a journey, not a race. While we'd like to offer every digital solution and eliminate every piece of paper, we have to balance those needs with other initiatives, priorities and customer preferences.
What's next in digital banking and how is your organization preparing for it?
Big data is now the war cry. With the information we have at our fingertips, offers are personalized to customers' individual preferences. As they're navigating through online or mobile banking, we make recommendations that will enhance their financial and personal lives.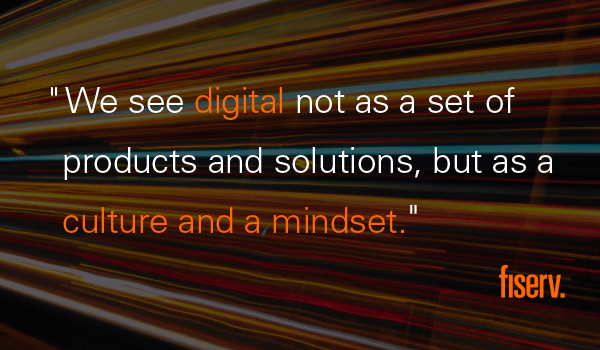 Capabilities such as personal financial management (PFM), artificial intelligence and chatbots will enable consumers to make on-the-spot, intuitive decisions as needs arise, similar to the capabilities found with voice-enabled technologies and platforms such as Amazon.
Banks, including ours, will need to be ready to respond to those changing consumer expectations. In addition to understanding what's available and what's coming from current sources, that may mean using open API capabilities to integrate new solutions into existing frameworks.
What's the biggest misperception about digital innovation?
Offering a digital solution but supporting it with manual back-end processes will affect how the customer experiences that capability. Like most financial institutions, we are very focused on the front end of digital innovation. But if you can't fully support the customer experience on the back end, you should be cautious about onboarding new solutions. Our manual processes, while not customer-facing, were wasting time, frustrating staff members and influencing the customer experience.
For example, we were spending all of our time manually tracking online banking enrollment and use. By automating that reporting, we can instead use that time to proactively reach out to customers to ask why they aren't using the service and answer their questions, which has led to increased retention of active online banking users.
What would you tell other financial institutions about implementing a digital strategy?
Start with your customer. What do they want and when? What are they trying to achieve and how can your financial institution help? Look at your current offerings and identify where there are gaps between the capabilities your customers want and the products and solutions you have. Consider feedback from data, focus groups, internal evaluations and other sources to prioritize implementation of new products and services – and ensure back-end processes are in place to support those experiences.
Implementing a digital strategy is not a one-and-done process, but I believe our organization is moving in the right direction, taking significant steps to create a culture of digital innovation.