People choose financial services options that make their lives easier. To a growing number of people, that could mean transferring money to a friend through social media, tracking budgets through an app or taking out a loan through an online lender. That's changing the way people bank, but is it changing how your financial institution offers and markets your services?
New research from Expectations & Experiences, the quarterly consumer trends survey from Fiserv, finds many consumers are comfortable with nontraditional entrants. That's especially true among younger, urban and high net worth individuals. The Expectations & Experiences: Channels and New Entrants survey conducted by Harris Poll found 16 percent of consumers overall would be comfortable paying bills through a social media company, compared with 35 percent of millennials, 28 percent of urban dwellers and 23 percent of those with more than $1 million in investable assets.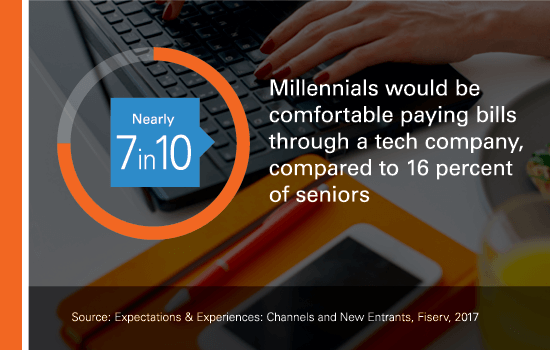 Nontraditional entrants are altering the way products and services are offered and, potentially, the relationships you've built with your accountholders. The Point talked to Pat Reetz, senior vice president of product management for Bank Solutions at Fiserv, about new entrants, innovations and financial services options.
Why are nontraditional entrants gaining traction?
For a growing number of people, a bank is not somewhere you go but something you do. We bank on our phones and laptops, at the ATM and the branch, by voice – wherever and however it makes sense for our individual needs. When people are managing or moving money, they may think it's easier and faster to use a payments company's app, for example, than similar options with their financial institutions. Or they may be unaware of comparable money management alternatives available at their banks or credit unions. Overcoming those perceptions is key.
How can traditional banks and credit unions similarly tap into consumers' desire for fast, convenient financial services?
Close the gap on the customer experience with integrated, intuitive solutions that make life easier. Before I left my driveway this morning, I used an app to order and pay for my favorite cup of coffee. I picked up my coffee from a friendly server who called me by name. That's an example of a digital experience that hasn't lost the human element.
How can a branch deliver the same type of experience? When customers or members walk into your branch, recognize what they've done on their devices and provide helpful information, advice and assistance with next steps. If they're making a deposit, talk to them about how mobile deposit could make their lives easier. In the same way, offer personalized, exceptional assistance via online chat or your call center. Make managing and moving money just as easy and enjoyable as getting that cup of coffee was for me this morning.
What's the takeaway for financial institutions?
So much of banking is about relationships. As banking becomes more digital, the challenge will be making and maintaining strong connections with accountholders. Those relationships can be a key differentiator for your organization. For example, consumers show interest in nontraditional lenders –29 percent said they'd be comfortable using a technology company to take out a loan, according to the survey. Do you offer and market a similar, integrated digital experience that also focuses on the customer relationship? Or would your accountholders say their relationship with your financial institution is purely transactional?
Start by determining the value and experience you're trying to create. Is digital banking complementary to the overall relationship you have with your customers and members? Do you offer what your accountholders want and expect? Most importantly, are you also focused on improving and measuring adoption and usage from critical digital solutions and features? It may be time to change you're approach to digital banking to create value, efficiency and an optimum customer experience.
Interested in learning more? Download Expectations & Experiences: Channels and New Entrants.