The digital wallet adoption curve should look familiar to financial institutions. In many ways, it matches the rise of online banking, with a steady increase in consumer acceptance from year to year. But I see one significant difference between the two: Consumers are adopting digital wallets at a faster pace than they signed up for online banking.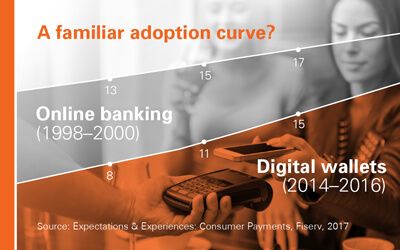 Between 1998 and 2000, online banking adoption rose 2 percent per year, from 13 to 17 percent, according to the Pew Research Center's Online Banking 2005 report. Digital wallet adoption, by comparison, rose from 8 percent in 2014 to 15 percent in 2016, according to the most recent Fiserv quarterly consumer trends survey, Expectations & Experiences: Consumer Payments. The Fiserv survey was conducted online by Harris Poll among 3,031 banking consumers in the U.S.
What appears to be an accelerated adoption of digital wallets is based on multiple factors and sends a clear message to financial institutions: Be prepared for broad digital wallet adoption at a faster pace than you expect.
Staying Ahead of the Adoption Curve
Think back to 1998, when online banking was gaining its first foothold in the market. The concept held the potential to revolutionize the financial services industry, but early adoption was slow despite consumer interest.
Certainly, several factors played into that, but chief among them was access. Most people used dial-up connections that were so slow they required about the same amount of time it would take someone to drive to the branch.
Soon, though, DSL arrived, and the pace quickened for online banking adoption.
Fast-forward to 2017, and you'll see some similarities. Digital wallets and all of the services they provide have captured the imagination of financial services professionals. Beyond giving consumers convenience for point-of-sale and other mobile payments, digital wallets allow for card controls, cardless cash from ATMs and a variety of other account services.
So what's the holdup in adoption? Just as in 1998, access is in its early stages. Digital wallet-enabled phones are still relatively new to consumers. But that won't be the case for long as companies such as Apple ensure more devices support the respective mobile wallets.
Digital wallet use is likely to increase as people buy those new devices. The pace of technological change is accelerating and so too is consumers' willingness to embrace those changes. People simply are more accustomed to adopting new technology now than they were 20 years ago.
With that knowledge in hand, combined with the certainty that digital wallet-enabled phones soon will flood the market, financial institutions and billers have an opportunity to anticipate and meet consumer expectations when adoption hits a critical point.
Preparing for Digital Wallet Adoption
The first step is to remove barriers to adoption. That means tokenizing cards and making it clear to consumers that the technology makes using a digital wallet among the most secure payment options.
Financial institutions also can raise awareness of digital wallet services – such as alerts and controls – that go beyond payments. And institutions can base that outreach on an understanding of what consumers want.
Among those who haven't used digital wallets but are interested, 43 percent said they want to be able to turn off their debit or credit cards in case of fraud, according to Expectations & Experiences: Consumer Payments. The survey also showed that 28 percent would want to withdraw cash without a card.
Building capabilities that satisfy those interests and preparing for broader digital wallet adoption positions financial institutions to provide the service consumers value most: keeping pace with their ever-changing lives.