Responding quickly and efficiently to the ups and downs of the housing market will keep mortgage lenders on their toes in the coming year.
Rising interest rates and a shortage of affordable housing could cool an otherwise hot home sales market, leading mortgage lenders to approach the coming year with caution. On top of that, lenders must keep up with regulatory changes and borrowers' increasing expectations for speed and ease in the lending process.
But there are bright spots. Millennials are the largest generation in U.S. history, and they've now entered peak homebuying years. The generation accounts for 36 percent of homebuyers in the market, the  largest share , according to the National Association of Realtors.
Home-ownership and equity has always been a driver of wealth, typically outpacing other financial investments. Although millennials have been slower to enter the market than other generations, purchasing a home will always be part of the American dream.
And with interest rates ticking up, home-equity loans for bill consolidation, construction projects and other purposes are likely to surge. TransUnion estimates that 10 million consumers will originate a home equity line of credit (HELOC) between now and 2022.
Navigating the mortgage market in 2019 will require flexibility and patience from borrowers and lenders. Here are three trends to watch.
1. The Acceleration of Automation and Digitization in the Mortgage Process
The faster we can get paper out of banks and credit unions, the better it will be for everyone. Digital transactions and processes reduce costs, increase transparency and make finding needed information easy for lenders. Look for 2019 to bring our industry closer to a completely electronic mortgage experience, from origination to close.
There's no question the cost to originate a mortgage has increased dramatically. Automating processes can keep those costs in check, reducing staff time, opportunities for error and risk. Using an automated workflow, mortgage origination processes can be transformed to help borrowers more quickly receive the keys to their new home, refinance, or obtain a home equity loan or line of credit. The more clerical tasks are automated, the more time staff can spend building relationships with borrowers.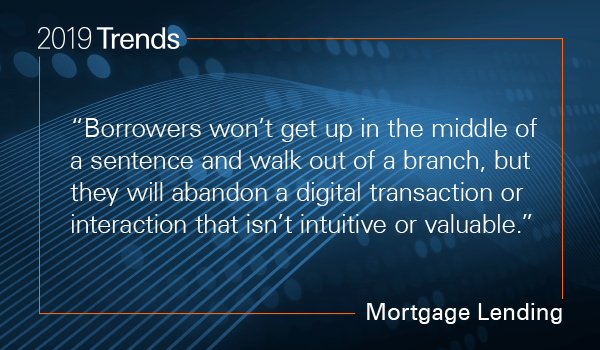 Loan files often contain as many as 700 pages, which must exactly match existing loan data and terms. Validating the accuracy of those documents via an automated process can decrease origination costs and speed time to close, while helping remove the chance for human error. For financial institutions planning to buy or sell mortgages, automated review helps to quickly evaluate portfolio quality and accuracy.
Because HELOCs are not as complex as first mortgages, they are fertile ground for the benefits of automation. As the equity market heats up, automating processes and approvals will help financial institutions take maximum advantage of the opportunity in the coming year.
Process automation is not just about tools and technology. It's about financial institutions getting a clearer understanding of how to efficiently and cost-effectively process and evaluate their mortgage portfolios.
2. Getting the Multichannel Borrower Experience Right
More than half of all loan applications in the past two years included some online or mobile component. Of those who have an existing home loan, 67 percent would feel comfortable completing a home loan application on a laptop or desktop computer, and 29 percent would be comfortable using a mobile device, according to Expectations & Experiences: Borrowing and Wealth Management, the latest quarterly consumer research from Fiserv.
Mortgage lenders are consequently challenged to deliver a more efficient lending process and a compelling, differentiated borrower experience. To grow their mortgage business, financial institutions will likely make greater investments in the customer experience in 2019.
However, the demands are significant for lenders that want to address the complexities of lending and enhance the customer experience. Just looking at the origination process, borrowers' preferences may include completing an online application, walking into a branch, reaching out to a call center or using a chatbot. As they move through the process, they may switch from one channel to the next and every channel must feel like a continuation of the same experience.
Borrowers won't get up in the middle of a sentence and walk out of a branch, but they will abandon a digital transaction or interaction that isn't intuitive or valuable. As those types of engagement replace face-to-face conversations, every channel must deliver a rich, digital experience.
While most of the industry's focus has been on getting the user experience right for the consumer, it's just as important to provide an intuitive experience for lenders. If mortgage lenders' jobs are made more difficult by employers' inability to provide the right tools and solutions, they will likely be looking elsewhere for new positions.
3. Data Takes Center Stage
Lenders have always used data points to help them make decisions, but technology enables an enterprise-wide, 360-degree view of borrowers and the lending operation. The more lenders get the transparency, visibility and quantity of data right – and make it easily accessible – the more it enables quicker, better decisions and reveals additional opportunities. Automation and faster decisioning affects closing speed, the user experience and loan quality, which in turn impacts market share.
Starting with a borrower's first entry into the process – the application – information can now be secured from a data source rather than documents. Financial records from banking accounts can replace statements, pay stubs, W-2 forms and tax returns, and lenders can automate more of the underwriting process.
A large, robust and accurate data set is the precursor to artificial intelligence (AI) and machine learning. Creating a clear data strategy, assigning dedicated resources to manage data initiatives and partnering with data-focused technology providers lays the foundation for coming innovations. Those could include digital assistants and voice banking skills that enable digital banking and payments.
AI can improve the quality of decisions. When financial institutions are able to fully trust decisioning engines, they could potentially enter or exit the mortgage businesses with the flip of a switch.
A Compelling Value
Today's lending environment is complex, especially for financial institutions. Most mortgage lending in the U.S. has moved in some fashion to nonbank providers and aggregators, which are able to compete without many of the regulatory challenges placed on banks and credit unions. To compete in the coming year, financial institutions will need to consider fully digitizing the loan lifecycle to achieve greater transparency and cost effectiveness.
But don't let alternative lenders distract from the advantages traditional financial institutions enjoy, including a lower cost of capital and a built-in customer base. When choosing a lender, borrowers often go with who they know. The Expectations & Experiences research showed that among those who recently applied for a mortgage or a HELOC, 30 percent said prior experience with a lender was an important factor in their choice of lenders, and 26 percent said it was important to choose their primary financial institution.
No matter what the coming year holds for the economy and the housing market, financial institutions will continue to provide a very compelling value proposition for homebuyers.
For additional perspectives on the hottest topics in financial services, join us at Forum 2019 May 6-9 in Las Vegas. Learn best practices, gain valuable insights and take advantage of opportunities to connect with the best and brightest in fintech.