Consumers are growing more comfortable and confident moving money in ways that bypass traditional financial institutions. People are still using the branch, but their expectations for how and when they use their financial institutions are changing.
That's especially true for younger generations. Research from Raddon shows 44 percent of Gen Z (the generation born after 2000) anticipate supplementing traditional banking services with solutions from technology companies.
"Banks and credit unions are under pressure to function more like fintechs or face an erosion of market share," said John Macaluso, SVP of business development, Bank Solutions, Fiserv. "As digital capabilities take center stage, financial institutions are turning their focus from simply facilitating transactions to playing a greater advisory role in peoples' lives."
How will banks and credit unions respond to the changes ahead? Here are three trends to watch in retail banking.
1. Payments Transformation
As a result of the federal mandate for faster money movement, payments will not only be 24/7, but also immediate. That has big implications for back-office operations, which have historically been organized around payment type and risk management instead of speed.
"Digital is important, critical and transformational, especially externally," Macaluso said. "But payments and payment management will be transformational from an internal, back-office perspective."
Financial institutions are beginning to recognize the influence payment transformation will have on their position in the customer value chain, operational processes and cost, and risk management, Macaluso said.
Besides the amount, what's the difference between a $500 payment and a $50,000 payment? Risk. Most financial institutions have processes and people in place to mitigate that risk, but only during normal business hours.
The move to real-time payments and transaction-level reconciliation means current bank processes supported by people will no longer be adequate. Banks and credit unions are turning to back-office automation to support a faster payments model, while managing risk and cost. In 2019, that transformation will take on greater significance.
2. The Evolution of the Branch
Right-sizing the branch network is a continuing focus for banks and credit unions. Where it makes sense, financial institutions are still opening branches, but their design, size and function are quite different than just five years ago.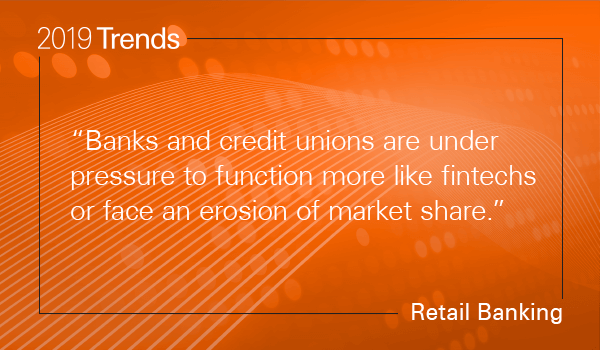 "Branch transformation is more than a buzzword," said Pat Reetz, SVP of product management for retail banking and channels, Bank Solutions, Fiserv. "The branch is becoming a place for advice, guidance and help with more complex financial questions – and brick-and-mortar locations are transforming to meet those needs."
New, smaller branches often feature cross-trained universal bankers armed with tablets and easy access to applications. Interactive teller machines (ITMs) and branch self-service teller machines enable self-service capabilities in the branch, the drive-through lane and stand-alone locations, which allow financial institutions to cost-effectively expand their markets.
A transformation is also occurring in the back office – or should be. But often consumer-facing digital capabilities, such as remote deposit capture, continue to be supported by manual processes and approvals.
"If the back-office experience is not in alignment, it will ultimately affect the customer experience," said Valerie Claussen, director of product management, Bank Solutions, Fiserv. "With automation comes increased efficiencies, a better user experience, lower costs and opportunities to manage resources in a new way."
A growing number of financial institutions are moving away from day-to-day management of technology to instead focus on their customers and members. Outsourcing some or all of that responsibility allows banks and credit unions to reposition staff members to differentiating strategies such as digital payments and analytics, Macaluso said.
3. An Eye on Innovation
Banking innovation is expanding and accelerating at an unprecedented pace and in multiple areas. How and when financial institutions implement new technologies depends on strategies, goals and resources.
Macaluso said open application program interfaces (APIs) should be part of every forward-thinking financial institution's strategies. Open banking and API initiatives are sparking innovation and pushing new business models based on collaboration between financial institutions and third-party providers. That kind of flexibility enables delivery of unique, differentiating experiences for consumers.
"It all comes back to flexibility," Reetz said. "Every financial institution will need different ingredients and a different recipe to win in their markets. For some, that will mean adding integrated capabilities from a fintech or third party."
Other organizations are looking to artificial intelligence (AI) to help consumers navigate more tasks on their own and in real time. The first wave of bots, machine learning, robotic process automation and natural machine language is being incorporated into financial services. Financial institutions are beginning to use AI for automated loan decisioning, for example.
While some institutions see the potential, many others are taking a wait-and-see approach. It all comes down to the value an innovation offers.
"Every organization wants market-leading digital channels," Claussen said, "But will those capabilities help them meet their strategic goals? Will they drive value for them in increased revenue or operating efficiencies? Deciding when and how to implement new technologies and innovations is part of the challenge."
A New Story to Tell
The days of people walking into a bank to complete every transaction aren't over, but they may be slipping away. While banks and credit unions remain central touchpoints for managing and moving money, nontraditional entrants and innovative digital capabilities are rewriting the retail banking story.
Staying ahead of changing consumer expectations and preferences for speed and innovation will be the focus in the coming year. Financial institutions have the runway to make the changes necessary to succeed but it means starting now to innovate and implement essential strategies. The pace of change will only quicken.