As business goes, so goes commercial banking. Strengthened by a relatively strong economy and a favorable regulatory environment, this year has been a good one for small businesses, larger companies and corporations – and the financial institutions that serve them. But what will 2019 bring?
"We're hearing from clients that their commercial banking business is as healthy as it ever has been," said Sonja Kostron, director of product management, Bank Solutions, Fiserv. "But even in a strong economy, financial institutions will need to align to businesses' changing needs and other market shifts to ensure continued success. Ongoing investments will help ensure commercial banking remains a strong profit center and revenue source."
Two out of three small businesses continue to express optimism about the economy and their prospects for sales and growth, according to the latest Small Business Insights report from Raddon. That's despite challenges on the horizon, including rising interest rates, pressure from nonfinancial competitors, sluggish loan growth, and increased demand for an intuitive, immediate and inspired banking experience.
In the coming year, financial institutions will need to develop and enhance their commercial banking strategies to capture new business, increase revenue, and navigate the challenges and opportunities ahead.
Here are three trends to watch:
1. Quicker Response to Market Changes
Competition from new players and the need to quickly bring new capabilities to the commercial market have made flexibility and response time more important than ever. To stay nimble, look for more financial institutions to embrace the advantages of connectivity and open integration.
Business leaders are short on time and looking for easy, intuitive experiences to help them manage day-to-day finances. And they're increasingly willing to leave their traditional bank or credit union to find those experiences. For example, Raddon found 32 percent of businesses were extremely or very likely to use an alternative lender to meet future financing needs, up from 23 percent in 2014. And 51 percent of millennial-led businesses have applied for a loan from an online lender that is not a financial institution.
While fintechs may not support every commercial payment, transaction or service, many potential capabilities would be in direct competition with traditional financial institutions.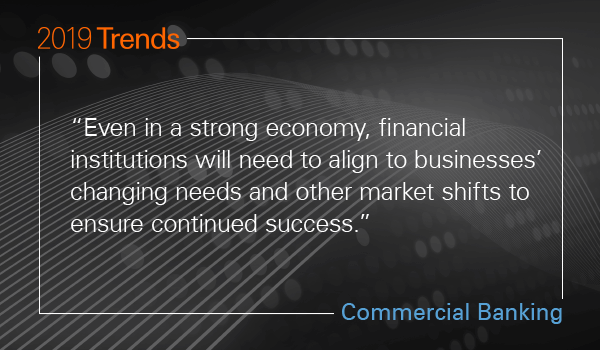 To compete in that kind of a market, financial institutions will need to respond faster to businesses' changing needs. For most, that will mean implementing solutions through traditional channels; others may choose to work with fintechs to add capabilities.
"There are definitely advantages to working with fintechs and that requires an open infrastructure," said Kent White, vice president of product management, Bank Solutions, Fiserv. "Integrating and offering new capabilities enables smaller institutions to attract, retain and support larger corporate clients and positions organizations to take advantage of continued, incremental enhancements to technology platforms."
2. Faster Commercial Payments
Real-time or same-day payments are a growing need and expectation for commercial clients.  The faster businesses get paid, the sooner funds are injected into their cash flow – and the quicker they can invest and earn. Immediacy is just as important when making payments. Real-time confirmation of payments made, accepted and recorded provides businesses real-time confirmation of funds availability.
Raddon found that 72 percent of small business owners currently use or would be likely to use expedited payments if the service were offered by their financial institution. And almost half (49 percent) would be willing to pay a fee for the ability to expedite the availability of funds from deposited checks.
"If they haven't already, financial institutions will need to modernize their payment platforms to support businesses' need for real-time payments," said Chad Avers, vice president of product management, Bank Solutions, Fiserv.
As the push to move money in real time increases, so will the pressure to ensure the pace of security matches the pace of payments. When payments are flowing through a central hub, organizations can monitor those payments for fraud at the same speed.
In turn, businesses want information associated with their transactions to also move in real time, including alerts, notifications and invoice details. Powered by artificial intelligence (AI) and chatbots, further sophistication around auto-decisioning will also likely come into play.
3.  Automation, Digitization and the Promise of Artificial Intelligence
The amount of information businesses need relative to their transactions is higher than in the retail banking space. That's slowed digitization in commercial banking, but moving away from manual, paper-based processes is a significant focus for financial institutions.
Robust cash management solutions enable enhanced digital experiences for financial institutions and the businesses they serve. According to a recent Aite survey, 82 percent of commercial bankers say improving the user experience for commercial clients is a top priority for their institutions, including a more efficient onboarding process, intuitive solutions that don't require training and greater insights into cash-flow trends.
AI is one way financial institutions and their business clients are removing manual interpretations and processes, using data that organizations already have at their disposal to help make better decisions and better manage their finances. AI helps businesses and financial institutions save time and personnel efforts, Kostron said, by focusing attention on areas where it will make a positive difference.
Businesses rely on fast responses and even faster money movement, including quick access to credit.
Reducing the pain points in the lending process comes down to converting manual processes and paperwork to digital, which is not always possible due to regulatory restraints. But in a rising rate environment, finding those increased efficiencies will be increasingly important.
White predicted prolonged contraction in our industry will continue to influence the digitization of banking processes and services, especially in the commercial lending space.
"With fewer institutions, the average size of loan portfolios has increased while staffing levels remain fixed for most organizations," White said. "How do you manage that discrepancy? It happens through automation."
Open for Business
Heading into 2019, business sales, profits and staffing levels remain strong, but headwinds may be on the way. Smart strategies will focus on helping businesses insulate against uncertainty in the economic cycle for continued prosperity.
Commercial banks and credit unions must continue to position their organizations as open for business. Not only does that mean offering the services and capabilities businesses need, but it also means helping organizations navigate changes such as greater connectivity, increased payment speed and automation, as well as new expectations for the commercial banking user experience. Financial institutions that mean business will meet those challenges and opportunities in the coming year.