As technological advancements bring more channels, customization and convenience to financial services, new providers continue to enter the marketplace to capture consumers' attention and patronage.
Member loyalty and service will always be top priorities for credit unions. But in 2019, look for organizations to also focus on a return-to-basics approach to building memberships and stability, starting with a renewed focus on increased deposits. Here are four growth strategies to watch:
1. Increasing Deposits in a Rising Rate Environment
Deposit acquisition hasn't been a focus for the credit union industry in over a decade, but that seems to be changing in 2019. A rising rate environment, combined with the increasing risk associated with retirements of the baby boomers, is shining a light on the need to attract and retain deposits cost-effectively. Competition on the lending side has kept many credit unions from raising asset yields, and they'll have significant margin degradation if cost of funds continues to rise in 2019.
Increasing deposits is a clear enough goal, but the banking environment has changed considerably in the past 10 years. One obstacle credit unions could face is that many employees haven't worked in this type of environment before and lack collective experience. New technologies, channels and competitors have changed the playing field, and credit unions will have to work hard for every dollar deposited.
2. Attracting New Members
Credit unions are looking to build new membership in 2019 rather than relying as heavily on upselling and cross-selling current members to generate growth. Even though the industry has done quite well with that approach, many credit unions are at a point where they need to look outward to grow membership.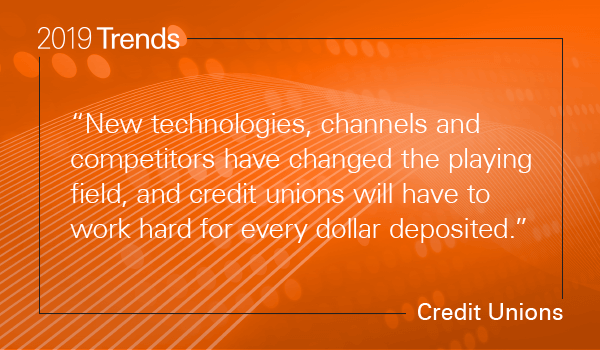 To help credit unions build their brands and attract newcomers, relationship-building and outreach tactics are likely to become more prominent. For example, efforts around financial literacy are especially attractive to Gen Z consumers, who grew up during the financial crisis and are more focused on making sound financial decisions. But credit unions need to focus on other age groups, as well.
Attracting new members today takes more than just good rates. Consumers are looking for the institution that best fits with their lifestyle. Technology – both inside and outside the branch – can be the differentiator in a crowded market.
3. Using Data Effectively
In 2019, the effective use of data to deepen member relationships will become increasingly important. But that doesn't mean credit unions need to spend exorbitant amounts of money to build the Taj Mahal of data warehouses. Credit unions already have ample data sources – mobile banking, debit and credit cards, ACH. The key is to analyze that information often and continually to find key indicators of need in the membership.
Credit unions can rely on that existing data first to help them understand what members need and make the right offer when that need emerges. Once they've maximized existing data, then they can move on to more sophisticated data collection and analysis, such as unstructured data, artificial intelligence and machine learning. We have to crawl before we walk and walk before we run.
4. Growing Loans Organically
Over the past decade, many credit unions have relied heavily on indirect loans to help build their loan portfolios. As we move into a more problematic economic environment in 2019, indirect loans will likely be the first place we feel the pain. Profitability of the indirect portfolio is now down dramatically – sometimes down to zero – due to thinned margins, higher dealer compensation and loan loss. On top of that, credit unions haven't been able to convert those indirect loans into long-term member relationships.
In 2019, credit unions will shift focus to more organic growth of loans, particularly real estate loans with millennials. To make that shift successfully, credit unions must consider what draws consumers. Services such as online loan applications and quick decisioning are attractive to many borrowers.
Member Interaction Is at the Heart of It All
No matter what growth strategies a credit union takes this year, building strong member relationships will continue to be a focus – and a mantra – for the industry.
Today's consumer is surrounded by noise and inundated with messaging. Technology will continue to add new touchpoints, and each one is an important opportunity. More than ever, successful credit unions will need to know and understand their members, communicate relevant messages, and provide intelligent financial services experiences.