When money moves the way consumers expect it to, they don't think about it. But when their expectations aren't met, it can turn their day upside-down and push them toward better experiences elsewhere.
In the coming year, financial institutions will face the dual challenges of meeting those evolving consumer expectations while grappling with the complexities of a shifting digital payments environment.
Financial institutions have been on a digital journey for more than a decade. The next, even more significant step on that journey is in payments.
But how can banks and credit unions keep up when the bar keeps rising for digital payments? How can institutions meet consumer expectations that evolve with each new experience in the market?
This year, expect financial institutions to seek the answers to those questions by focusing on three areas of digital payments.
1. Faster Payments
If consumers can get diapers delivered to their doorsteps the day they order them, it's hard to justify not being able to move money the same day. Enabling faster money movement is becoming a major differentiator in the market.
Recent quarterly consumer research from Fiserv only underscores that point. According to Expectations & Experiences: Consumer Payments, 50 percent of consumers consider "real time" in financial transactions to mean immediately.
That's one reason to expect continued investments in faster payments. But there's another reason: Real-time payments are a requirement for Zelle®, which has become a ubiquitous person-to-person (P2P) payments player for financial institutions.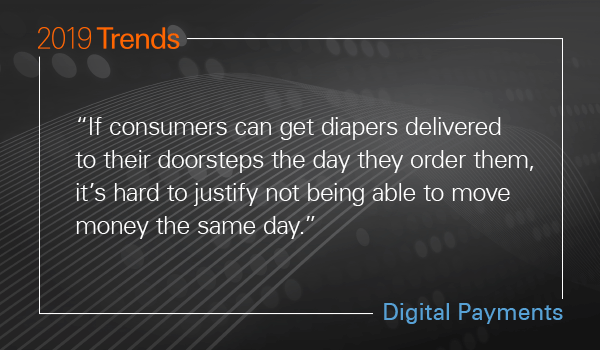 That real-time requirement is going to be a significant component of moving the industry deeper into the faster payments space. Further, while Zelle has given financial institutions a push toward real time that they haven't gotten elsewhere, it also has opened the door to other real-time possibilities in payments.
Financial institutions are thinking beyond P2P to consider all the benefits of taking a more holistic approach to real-time money movement.
It turns out, there's more to faster payments than just splitting the check.
2. Smarter Payments
Financial institutions probably know more about consumers than anyone other than their doctor or spouse. But traditionally, institutions haven't used all the transactional data at their disposal, such as payment tendencies, billing history and due dates.
That will continue to change this year as financial institutions seek to better understand consumers and optimize experiences for them.
Say a consumer has set up alerts for when an AT&T bill payment is due. The consumer gets the alert while at the mall. Instead of using a smartphone to pay the bill as usual, the consumer chooses to pay at a nearby AT&T store.
An intelligent system realizes the bill has been paid and stops the alerts immediately. It also can learn from that activity, using the interaction to update the consumer's information and give guidance for future actions.
If financial institutions are looking at faster payments, they're also looking at intelligent payments. It's about choice and control as opposed to what can be a rigid system.
It centers on the experience and providing people with a mobile and data-rich environment that offers the information consumers need from a financial wellness perspective. That includes alerts, payment history and any other information that enables smarter decisions.
3. More Efficient Payments
Financial institutions of all sizes are beginning to look around and say, "Wow, there's a lot going on in payments. I need to harness that." But it's not as simple as snapping your fingers and making it so.
And it's not as simple as focusing strictly on the payment. An enhanced consumer experience relies on integration around the payment, and that means infrastructure modernization on the back end for many financial institutions.
That could include payment-hub technology, which enables the management of all payment types on a single platform and offers the potential for better risk analysis, faster settlement, lower routing costs and a real-time view of transactions. Without modernization, delivering the ideal consumer experience becomes more difficult.
Innovation and modernization will need to go hand-in-hand with a long-term payments strategy. And institutions of all sizes need to plan ahead.
Finding the right strategy, though, will continue to be a challenge for financial institutions. With so many digital payments options in the market, it can be confusing.
Institutions still are deciding where the different payment rails fit together or compete. This year, expect those options to clear up as use cases crystallize and specialization takes shape.
The Evolution of Payments
Meeting consumer expectations in digital payments can be as daunting as it is exciting. People want speed, intuitive engagement and efficiency.
More than anything, though, they just want to make their payment and move on. The measure of success in an evolving digital payments space is providing a service that meets consumers' expectations so seamlessly that they don't notice it's there.