Relevance is no longer good enough in today's billing and payments environment. Organizations need to be indispensable to consumers because the costs to switch providers are getting lower and lower.
That's why 2019 will be the year of consumer engagement. Similar to past years, organizations will focus on creating heightened, intuitive consumer experiences.
In the coming year, though, the pace will accelerate as the market evolves. Organizations have built their consumer engagement models. Now they want to optimize those models to best serve and retain their customers.
It's a trend that follows closely the results of the 2017 Customer Experience in Marketing Survey by Gartner. That study showed 81 percent of executives believe that by 2020, they will be competing on the basis of the customer experience, up from only 39 percent in 2012 and 66 percent in 2017.
Payments are now central to that customer experience, no matter through which channel they are made. A frictionless payment, though, is just the baseline of customer expectations, as anyone with an Amazon Prime membership knows.
From the first click to the final payment, that experience represents the standard in convenience, speed, flexibility and intuitive engagement. The trick to making yourself indispensable is to provide consumers with a rich, holistic experience.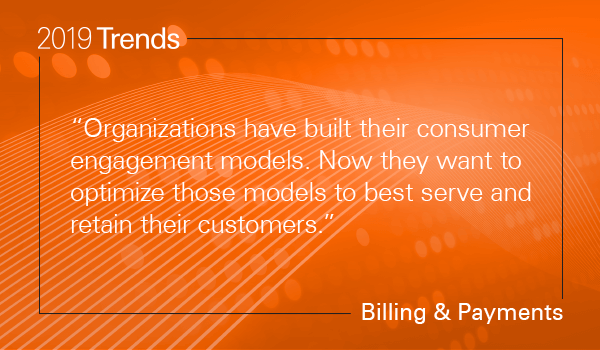 So how will organizations achieve that goal in the next year? Here are three top trends to watch in 2019:
1. Creating an Intuitive Mobile Experience
Mobile's application as a payment method is well established. Among those who actively used mobile banking in the preceding 30 days, 64 percent used mobile bill pay, according to the 2018 Expectations & Experiences: Consumer Payments survey by Fiserv.
Mobile, though, is permeating all kinds of consumer interaction models. Looking forward, it's important to apply that understanding. Go beyond the classic payment to the services around that payment.
For example, in the health care industry, a company facilitates the billing process through a health insurance exchange. A customer signs up, enters a credit card number and makes the first payment. From there, automatic payments can make the process seamless.
But that's not enough anymore. Customers now expect contact through alerts and notifications. They want regular opportunities to upgrade or enhance the service, and they expect to interact in real time.
Say someone has paid a health insurance bill through the 31st of the previous month but forgets to pay for the current month. On the 1st, that person tries to fill a prescription but the coverage is denied.
The inconvenient solution is to make a phone call, wait on hold while standing at the pharmacy, confirm a credit card number and then wait for the system to update the payment.
With mobile, that person would have received past-due alerts. And if those didn't solve the problem, the customer still could make the payment and get the prescription with a swipe and tap on a smartphone.
Mobile, for now, is the channel for an enhanced consumer experience. Expect opportunities to apply more tools in that space.
2. Breaking Down Silos Between Channels
The problem with competing on the basis of customer experience is the difficulty billing organizations have managing and capitalizing on all available channels. It's too often the case that organizations keep each channel in a separate silo, clouding any holistic view of customer behavior as well as forcing the company to react rather than anticipate customer actions.
That approach often leads to higher costs for channel management, failure to create a free flow of customer data from one channel to the next and missed opportunities to strengthen relationships with customers.
In 2019, expect those silos to disappear as organizations use consumer data from across all touchpoints to gain new customer insights and create a more personalized billing and payment experience.
For example, that insight can help organizations assess why customers might favor one channel over another at certain times. Maybe customers use a particular channel, which might be a high cost to the organization, with the mistaken belief that other, lower-cost channels will not meet their specific needs.
With an understanding of why people make certain choices, an organization can provide incentives and education to guide customers to other channels.
3. Achieving Real Time
The industry is making a lot of noise about real-time capabilities. Look for it to only heighten in importance. There's a good reason for that, and it goes back to the consumer experience.
The Expectations & Experiences: Consumer Payments survey showed that when consumers hear "real-time" with respect to financial transactions, 50 percent expect immediate results and 24 percent expect results "within a few seconds." Organizations will need to focus their efforts on meeting those expectations.
In many ways, the real-time movement flows around affirmation of payments. Often, if you pay your bill through a financial institution channel and then log in to that biller's site, you won't see that payment confirmation for quite some time because the systems aren't connected.
In the coming year, there will be a continued need to tie systems together for a holistic view of payment status, and real time is fundamental to that. Consumers want all of their payment information updated immediately.
The Year of Engagement
The bar is set high in the coming year for companies to find ways to enhance engagement with consumers in the most seamless ways. That will come in various forms as the market evolves and more tools emerge.
The keys will be anticipating what comes next, adapting to changing consumer expectations and offering connected, intuitive experiences.