Across a generally robust wealth management landscape, significant changes are taking hold, accelerated by technology and bold digital strategies.
Many firms have invested in new technology over the past several years, yet several market conditions and trends in wealth management are expediting the need to further integrate, operationalize and upgrade legacy systems. Here's what's happening in the market – and what to watch for in the coming year.
Market Conditions
Client assets have been on the upswing for several years. Thirty-four percent of investors now have more than $100,000 in investable assets, according to Expectations & Experiences: Borrowing and Wealth Management, the most recent quarterly consumer survey from Fiserv. However, challenges remain.
Since the 2008 financial crisis, investors are more aware of the fees and commissions associated with management of their wealth and have pushed back on those costs. That may be one reason why there's increased confidence in do-it-yourself investing. Among the 42 percent of affluent consumers without a financial advisor, the survey found a 24 percent increase in those who say they don't use an advisor because they believe they can manage their own investments.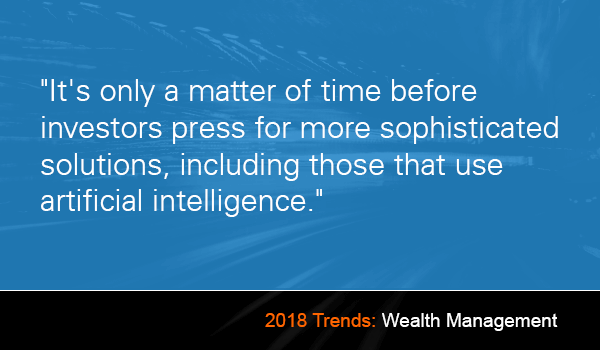 In addition, it's only a matter of time before investors press for more sophisticated solutions, including those that use artificial intelligence. Digital consumers accustomed to on-demand, easy-to-use innovative apps and other offerings simply expect more.
An Enhanced User Experience
In the race to respond to industry and investor needs, there has been significant progress in enhancement of the user experience, including single sign-on, API-driven digital technology that's ready to integrate.
Look for technology providers to continue to prioritize innovation that leads to a more modern, intuitive user interface, including efficient workflows for advisors, managers, home offices and, of course, investors. Providing a frictionless onboarding experience is an oft-mentioned pain point for money managers and advisors. However, the process has shown notable recent improvement.
Expectations for ongoing enhancement of the user experience extend beyond the end-investor to also include wealth management professionals eager to provide great service to customers and win more business. All advancements are creating end-to-end operational efficiency and scalability for our industry.
Risk and Regulation
Despite conversations swirling around Washington and Wall Street, regulatory mandates prevail and require diligent management and adherence. Without a doubt, technology is helping advisors meet regulatory requirements, including provisions of the Department of Labor Fiduciary Rule, which provides further transparency for investors.
Meeting regulatory mandates will remain top of mind for asset managers and financial advisors into the foreseeable future, as will security. In today's mostly digitized world, risk threats are real and greater emphasis on cyber security is critically needed.
Evolving Technology
On its own, each of the issues facing our industry has the potential to create challenges; together, look for complex market conditions and trends to lead to greater transformation in the coming year, including an intense industry-wide focus on infrastructure and cost-containing consolidation.
Wealth management professionals increasingly acknowledge the time savings and other efficiencies technology enables. As a result, many organizations are encountering greater buy-in for additional investments in technology.
However, there are still many organizations using ad hoc programs on disconnected platforms. After lagging behind other financial services sectors, wealth management is now catching up, and, simply put, a one-off approach is not optimal for business-building and expansion.
Numerous firms are assessing their platforms to fully understand their technology's functionality and range of capabilities. In the coming year, that type of review will help organizations determine if what is being delivered actually aligns with their business priorities and directional course.
Charting a New Course
A dedicated focus and commitment to evolving technology that powers, supports and works in tandem with digitization is the course leaders in our industry continue to chart. In 2018 and beyond, look for accelerated innovation and change in wealth management.