Paper-based, clumsy or drawn-out mortgage origination and servicing processes confound borrowers, who expect the same digital experiences as when they get a latte at Starbucks or shop on Amazon. The need for an intuitive, frictionless digital borrower experience is increasingly key to lenders' success – and underpins every major mortgage lending trend in 2018.
More consumers than ever are using digital channels to complete parts of the loan process, from researching options to requesting a payoff amount. This year, we learned that 68 percent of borrowers would be comfortable going online to access loan statements and 23 percent would be comfortable using a smartphone to schedule payments, according to Expectations & Experiences: Borrowing and Wealth Management, the most recent quarterly trends survey from Fiserv.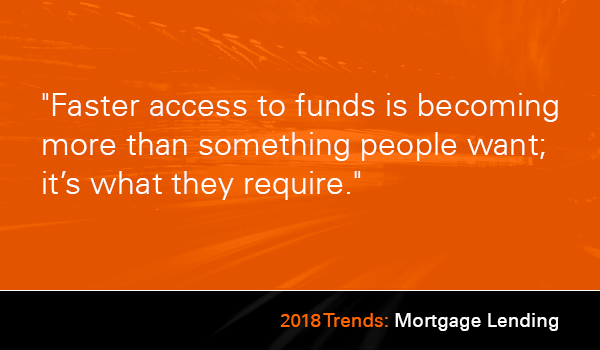 With that in mind, what can mortgage lenders expect in 2018? Here are five trends to watch:
Faster Access to Funds

From the application date, the time it takes to close on a home loan has been reduced nine days since the beginning of 2017. Lenders can further reduce days to closing – to 15 days in some cases – by reducing the number of decisions for the borrower and the lender. Instead of choosing from dozens of loan types, the borrower is directed to one or two variants to streamline underwriting. In the same way, lenders can reduce the number of participants in the process by using a focused set of data providers, including appraisal companies.

Of course, delivering faster access to funds wouldn't be possible if the application wasn't online, but instead directed the borrower to go to a physical location, such as a branch, at every step. A word of caution: Some lenders have employed online data capture but still print the borrower input and complete paper forms in the back office, which gives the appearance of digitized process without realizing any real benefits.

Faster access to funds is becoming more than something people want; it's what they require. In this environment, look for a continued push for speed in the mortgage process – for decisions that happen closer to the moment of need – in the coming year.

Digital-First Capabilities

Employing digital capabilities improves the borrower experience but also has benefits for lenders. Digital transactions and processes reduce costs, increase transparency and make finding needed information easy for lenders. Beyond simply removing paper from the mortgage process, digitization must include a comprehensive online application that feeds data into the system instead of requiring it to be retyped.

Our industry is moving closer to a completely electronic mortgage experience, including a digital closing. People probably won't close on their mortgage while on the go, but they may choose to close from home or sign documents on a tablet in the branch.

Artificial Intelligence

Artificial intelligence, including machine learning, uses algorithms to help lenders anticipate borrowers' needs, inform underwriting decisions and expedite the lending process. The amount of data now available from digital transactions and other sources influences how lenders find new borrowers and informs the products they offer those borrowers. That type of automation and analytics could also help lenders determine who is likely to need a mortgage and which borrowers will soon need help making their payments. In the branch, artificial intelligence could guide conversations and streamline back-office functions.

Shifting Markets and Demographics

Most industry analysts expect interest rates in the coming year to rise incrementally, which typically cools the housing market. More holistically, lenders have been affected by changing demographic trends. Millennials are slower to form households, which delays first-time mortgages. Baby boomers are living longer and aging in place – people older than 55 own 53 percent of owner-occupied houses in the U.S., according to Trulia. That's creating a shortage of housing inventory in many areas.

With these shifts in mind, I believe we'll see slow, steady loan portfolio growth, but most gains won't be from traditional new construction products or loans to refinance existing houses. Lenders can help consumers who are staying in their homes longer take advantage of growing home equity. They also can work with younger borrowers who may have more interest in rehabbing urban properties than investing in traditional suburban or exurban structures.

Blockchain

Is 2018 the year blockchain moves from idea to proof of concept at scale? We'll see. Lenders are looking to blockchain for its potential to add transparency and efficiency to the lending process while reducing risk. Using a distributed ledger, all parties involved in a mortgage transaction could see what's happening with the loan and have a cryptographic level of security to claims against that data. Paper can be altered and misrepresented, but blockchain may soon make the "permanent record" a reality in mortgage lending.
Threading the Needle
As we move into 2018, getting the borrower experience right has never been more important. New technologies are taking hold, yet consumers still value personal attention and counsel, especially with one of the largest purchases of their lives. Mortgage lenders that are able to successfully thread that needle in light of changing consumer expectations, emerging capabilities and shifting market conditions will likely find continued success.
---