Acquiring other financial institutions or branches – in a current market footprint or elsewhere – can be a pathway to growth for many organizations in today's challenging banking climate. As a result, bank and branch acquisition is gaining momentum. Since 2007, the FDIC reports a 14 percent decline in the number of bank organizations as assets continue to concentrate into banks with total assets topping $1 billion.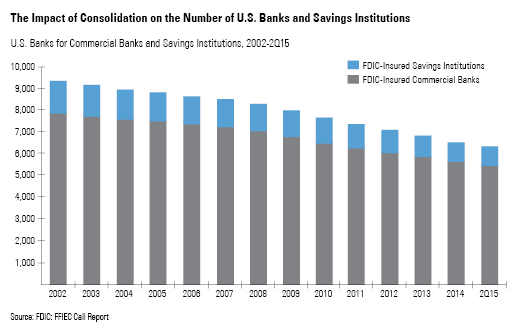 Too often, however, financial institutions find themselves well along in the process of acquiring new locations before they have seriously considered whether the proposed bank or branches, as well as market mix, are even a good fit. To prevent this situation and unlock critical data, financial institutions should commit to an investigative, analytical approach consisting of five keys.
Key No. 1: Defining Revenue and Earnings Objectives
Any acquired bank or branch must complement current operating strategy. Data analytics can bring efficiency to this process. First, create and analyze a strategic peer group of financial institutions, validating performance results through comparison of key performance metrics, such as ROA, ROE, loan mix, and fee income and funding mix to identify metrics that can be improved and any strategy shifts that might be desirable. Your organization can use the strategic peer group's results as you set your own goals for loan and funding mix, as well as growth and wealth management income objectives. The target acquisition should help close gaps in your financial institution's mix. 
Key No. 2: Defining Risk Management Objectives
Using the risk metrics of the strategic peer group, determine if a strategic acquisition will improve your risk profile. Do you have enough capital to acquire a target and preserve strong capital levels after acquisition? What effect will an acquisition have on loan concentrations and fund dependency? These questions will need to be addressed in order to secure approval of any acquisition.
Key No. 3: Evaluating the Target's Market Share and Position
Know the competitive saturation in markets under consideration. The U.S. average market saturation is about 1,200 households and businesses per branch. Competing in markets with substantially fewer households and businesses will be difficult. Data analysis can help financial institutions identify and understand competitors in new markets and align pricing and fee structures accordingly.
Key No. 4: Evaluating Customer Segments
In addition to ensuring products and services are competitive, financial institutions must understand the customer segments that make up the new market. Determine how consumers and businesses in new markets are similar to those in existing markets – and how they are different. Ensure products, service and internal training are in place to meet the needs of a new segment of consumers and commercial accounts.
Key No. 5: Evaluating the Target Market's Impact on Your Existing Franchise
The final piece of data relates to projected growth rates at new branch locations. Specialized software like BankAnalyst® Market from Fiserv merges growth rate projections and quantifies them by branch. Combining the total growth projection in the market, and adding the competitive factor to show the growth per branch offices, provides a measurement that is integral to strategic planning. If the average growth surrounding target sites is higher than existing branches, acquiring these locations should add to a financial institution's overall growth potential.
Matching Opportunities With Objectives
Given today's challenging markets and industry trends, acquisition activity is sure to increase. Acquisition-minded financial institutions must select targets that can facilitate core franchise growth, add to earnings and improve long-term efficiency. Having a plan in place to analyze both the financial and market data will help ensure targets are able to fulfill short- and long-term objectives.
Interested in learning more? Read Five Keys to Analyzing Potential Bank or Branch Acquisitions, a Fiserv white paper.