While conventional wisdom holds that financial institutions aren't keeping pace when it comes to digital experiences, actual users of digital banking beg to differ. That's based on the most recent Fiserv Consumer Trends Survey, one of the industry's longest running surveys on U.S. consumer's financial habits. People continue to report sky-high levels of satisfaction with their institution's online and mobile services – with a majority even assessing it on equal terms with their last online retail shopping visit.
Online banking use is now nearly ubiquitous, with 86 million households using the service – a number that grows incrementally every year. Eight in ten U.S. households with Internet access now use online banking, accessing accounts an average of 10 times per month. Satisfaction with digital banking is high: 92 percent of users report they are satisfied or very satisfied with both online and mobile banking.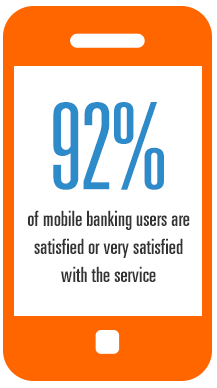 When asked to compare their online banking website to the retail site they used most in the past three months, 62 percent indicated the two sites were equally good, while 22 percent said their online banking site is better than their most frequently used retail site. Geoff Knapp, vice president for Market Management for Fiserv, says that's certainly good news for financial institutions as whole, but doesn't mean they can rest on their laurels.
"The survey results speak to the fact that investment in digital experiences pays off in higher engagement and satisfaction," said Knapp. "At the same time, the digital bar is continually being raised; even the banks and credit unions that have traditionally excelled in the online channel must focus on higher growth channels like mobile, and drive adoption of services to reach more consumers."
Mobile banking results from the Consumer Trends Survey tell a similar story. Use of mobile continues to grow steadily and now totals 35 million households – up 17 percent over the previous year. Although usage skews younger, among seniors who own a smartphone or tablet, 23 percent use their devices for mobile banking. Satisfaction with mobile banking is comparable to that of online banking, with 92 percent of users indicating they are either satisfied or very satisfied with the service.
Customer satisfaction figures are also consistent across generations. For example, 87 percent of millennial respondents report being satisfied or very satisfied with their mobile banking service; 86 percent of seniors say the same.
From checking balances to making payments, mobile banking users utilize a wide variety of features. However, mobile banking users who use transactional features – transferring funds, making deposits, paying bills – are more satisfied with the service, suggesting the ability to take action is an important satisfaction driver.
Consumers increasingly value a wide variety of digital services to manage their financial lives, and are clearly more satisfied when they have multiple ways to access financial services and manage their household finances. While a firm handshake and a friendly smile at the teller line were once enough to earn a customer's satisfaction, today's financial institutions must consider the multiple ways consumers interact and transact with their organizations in order to drive the highest levels of satisfaction.
Now available for download, the 13th Annual Fiserv Consumer Trends Survey highlights the opportunities for financial institutions to better understand and expand their digital reach to all consumer segments.