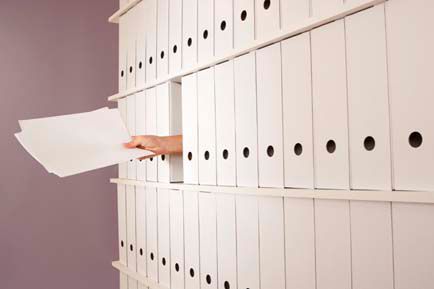 While mobile banking and other consumer-facing bank technologies dominate the spotlight, one area of bank IT that is often overlooked is Enterprise Content Management (ECM). The Point recently spoke with Jay Coomes, Vice President of ECM at Fiserv, to get a better understanding of the evolution — and more recent revolution — that is taking place in how financial institutions manage the huge volume of documents and other content that flows throughout their organizations.
"Enterprise content management in financial institutions really began to take shape in the 1980's, when the boom in check-writing led to large electronic image archival systems that could process and retrieve check images and statements," says Coomes, an expert in content management since the late 80's. "As imaging became routine, there was a move to smaller, in-house managed archives where banks could store other documents related to core account processing, like COLD reports and non-check images such as teller receipts, deposit slips and signature cards."
Document management technology continued to mature, adding the capability to handle different document types, assign retention periods, and secure documents. Other technologies were soon incorporated to extend functionality, such as capture and optical character recognition, business process management and digital distribution. With this maturity, document management had morphed into Enterprise Content Management – and it soon branched throughout the institutions, from businesses like lending and insurance, to internal operations like compliance and human resources.
Coomes says the definition of ECM has continued to evolve in recent times, as financial institutions deal with ever-increasing volumes of information, more compliance mandates, and subsequently more demands on their enterprise IT departments to manage these requirements.
"It used to be that financial institutions viewed enterprise content management as essentially a document management archive serving the core account processing platform," says Coomes. "That's changing, as more financial institutions are approaching ECM as an integrated platform that sits in the middle of the enterprise, serving the entire organization."
The definition of ECM isn't the only thing changing. Coomes outlines three trends that are impacting the future of ECM:
"The CFPB [Consumer Financial Protection Bureau] now requires certain financial institutions to maintain records of all customer communications, meaning records of emails, voicemails, social media, and other correspondence," says Coomes.
"Workflow automation, data filtering and dashboard reporting tools that are built into the more robust ECM products allow you to build applications that layer on the base ECM infrastructure already installed," he says.
Coomes points out that many financial institutions start out with converting one paper-intensive business process, like loan processing, accounts payable or commercial customer on-boarding, and then quickly realize the potential value for other areas and move on to address other business processes.
It's not just about documents anymore.

It's about managing the critical content and the processes related to content throughout the enterprise. Where financial institutions started off storing and retrieving check images, they now must manage many different types of content in a variety of formats. These include PDFs, Microsoft Office files, audio, XML, video, HTML, annotations, checklists, workflow logs, physical record locators, and content history.

ECM as an application infrastructure.

Strategic ECM solutions provide an infrastructure to develop and deliver applications that automate and streamline content-intensive end-to-end business processes.

"Consumerization" of IT has changed the game.

As consumers and employees become comfortable with the user experience on their personal tablets and smartphones—and the almost instant accessibility of information—they're demanding simpler, more intuitive, paperless processes from their financial institutions. This is true regardless of whether they are interacting through handheld devices, desktop web browsers, kiosks or at the teller window.

Consumerization is also increasing the demand for mobile ECM. Access to ECM content and tasks is now an expectation no matter where the user is located – and users are increasingly away from their desk and connected via mobile devices.

"Fiserv has released its ECM interfaces for the iPad and other mobile devices, so that content may be accessed from the institution's front door or from the boardroom. Approval or monitoring tasks can all be accomplished from almost anywhere supervisors might find themselves when the task needs to be accomplished," says Coomes.

As ECM platforms continue to evolve, they are increasingly supporting the next generation of apps that connect financial consumers and workers to the documents, content and information they need.