Acquisition Expands SentrySM Cyber Security From Fiserv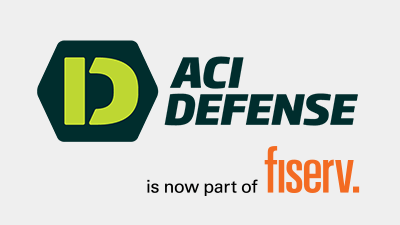 ACI Defense offers products and services focused on ensuring financial institutions are secure and compliant with regulations. Combining assessment services and detailed evaluations of internal information security provides a more complete picture of a financial institution's overall security posture. Managed security, hosting services and logging, alerting and reporting services provide financial institutions with the information, network performance, trending analysis and security vulnerability information critical to the service, planning, management and compliance of their networks.
The Sentry Cyber Security suite now includes ACI Defense products and services to offer a layered approach to cyber security that protects your business from external cyber threats before attackers can compromise your systems, steal data or otherwise put your business at risk. Our services address every important area of security, including endpoint protection, firewalls, intrusion prevention systems, real-time threat detection and response, managed hunting, malware defense, multi-factor authentication, social engineering and more.
Visit the ACI Defense Client Portal.